Sign Up or Login
Hutten Family Farm Newsletter for Sunday Apr 17, 2011
It sure was nice to see the rain today. I know that most people (myself included) would rather see sunny spring days but the land is quite dry for this time of the year. It looks like a wet week ahead which would be welcome from my selfish perspective.
There should be some bunched red radishes from the greenhouse in the boxes this week.I am also looking at baby pac choi as well. It might be ready and it might not; wait and see. We will continue to have apple cider in the boxes for at least another month or so. After that it will only be available frozen for a limited time into the summer. When we start picking the new crop of apples in August we will start having it fresh pressed again.
I have also decided to buy some local produce over the next few weeks to supplement my own production. This will include greenhouse grown cucumbers, white and baby portabella mushrooms, and maybe some greenhouse tomatoes. My intention is to prevent forcing CSA customers to live on leafy greens alone for the next month. I hope that this works for the majority of you.
We are also looking at some of the options that we offer on our CSA. The option of putting the boxes on hold without penalty seems to be working well for most people. We are planning to change the custom ordering option. We do not want to eliminate it as an option but we will probably limit it to a maximum number of customized boxes per year. The intention of this option was to allow people to modify the box for special occasions, extra company, etc. The vast majority of people never use this option; it is only utilized by about five percent of customers. My brother the programmer is working to modify the website to track this. We will keep you posted as to what we decide to do (and we will not change it suddenly without notice in case some people want to opt out).
The crops in the field are doing very well. Under the row cover all the greens are now up and looking healthy. The broccoli that I planted outside a couple of weeks ago is looking a bit rough after all the wind and that nasty minus eight degrees the other night. As I mentioned in an earlier e-mail, the idea of planting it so early was to gain bragging rights in the community. If it dies from the cold windy weather I will just quietly plant some more without telling the neighbors.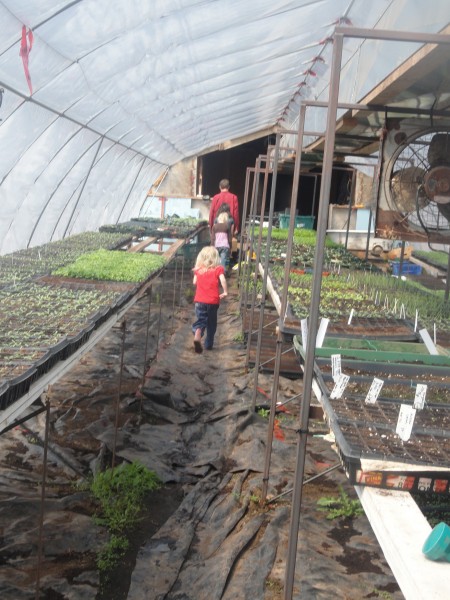 ---
Return to the list of newsletters