Sign Up or Login
Hutten Family Farm Newsletter for Sunday Oct 31, 2010
Happy halloween everybody.
We just got back from taking Sarah and Aleida out trick or treating. We went to seven houses in the community including my mom and an uncle and aunt. One couple in Lakeville gave each kid a colouring book, a sticker book, and chocolate. I call that a good stop.
We hope to finish picking the last apples off the trees over the next two days. It is getting quite late in the fall now and the apples are dropping very easily. The last fall carrots, beets, celeriac, salsify, onions, cabbage, rutabagas, winter radishes, and romanesco cauliflower will be harvested for storage over the next two weeks. Boc choy, pac choi, broccoli, cauliflower, radicchio, and some unusual asian greens should be safe in the fields for a little while yet. Leeks, collard greens, toscano, russian kale, green kale, and red kale will stay outside the latest.
I made a super yummy soup for supper.Here is my abstract "recipe".
1-Peel and cut up french pumpkin and celeriac-bake 45 mins at 350 degrees
2-Cut up three cloves garlic, 2 onions,and lots of ginger root-fry in a little olive oil when pumpkin/celeriac is done
3-Add a little water and the pumpkin/celeriac to onion mix
4-Chop up some spinach and toss in-add salt and curry spice-simmer
This soup has very healthy ingredients but it still tasted awesome. Maybe I was just really hungry.

The boxes will have the French pumpkin slice (musque de provance), celeriac, spinach, broccoli, carrots, and lots more.Hope you enjoy the late fall weather.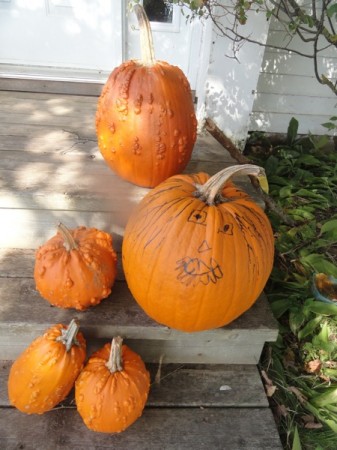 ---
Return to the list of newsletters