Sign Up or Login
Hutten Family Farm Newsletter for Sunday Aug 22, 2010
We just returned from Halifax where we stayed for the weekend after attending the markets. It was a nice little getaway from the farm for Debra and myself. Going to a hotel for the night is still a really big event for the younger kids. Hope that your weekend was good as well.
We began picking pears a few days ago. The season always starts with Clapp pears which are soon followed by bartlett and eventually anjou and bosc pears. The apple picking continues each week and will soon demand a lot of our time.
Winter squash is ripening as well with about four out of nine or ten varieties ready now. Both cantaloupes and red and yellow watermelons are ready this week. Sweet peppers will be in the CSA boxes this week as well.Both lettuce and salad mix have been in short supply the last couple of weeks. I like to blame production problems on the weather but I think this one has to do with me. We should have enough salad this week again with heads of leaf and boston lettuce following in a couple weeks.
Along with the sweet cubanelle peppers, the boxes should contain lettuce mix, pears, bunched red onions,more tomatoes, crunchy apples, artichokes, blueberries, and more. It is sometimes difficult for us to decide what to put into the boxes each week. There is such an abundance of great food this time of year and everyone has their favorites.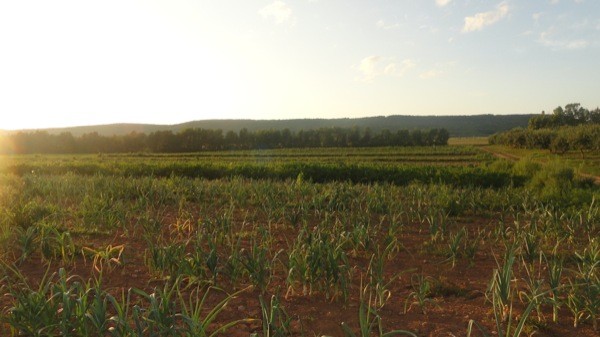 ---
Return to the list of newsletters